Where can I find Pacific Dulse from Oregon Seaweed?
Find our fresh dulse seaweed at these locations:
Buttercup Ice Creams & Chowders
35915 N Hwy 101
Nehalem, OR 97131
503-368-2469
Open: Thur. / Sat. 11:30AM – 5PM*
Sun. 11:30AM – 4PM*

*Please note business hours are subject to change, verify with outlets directly.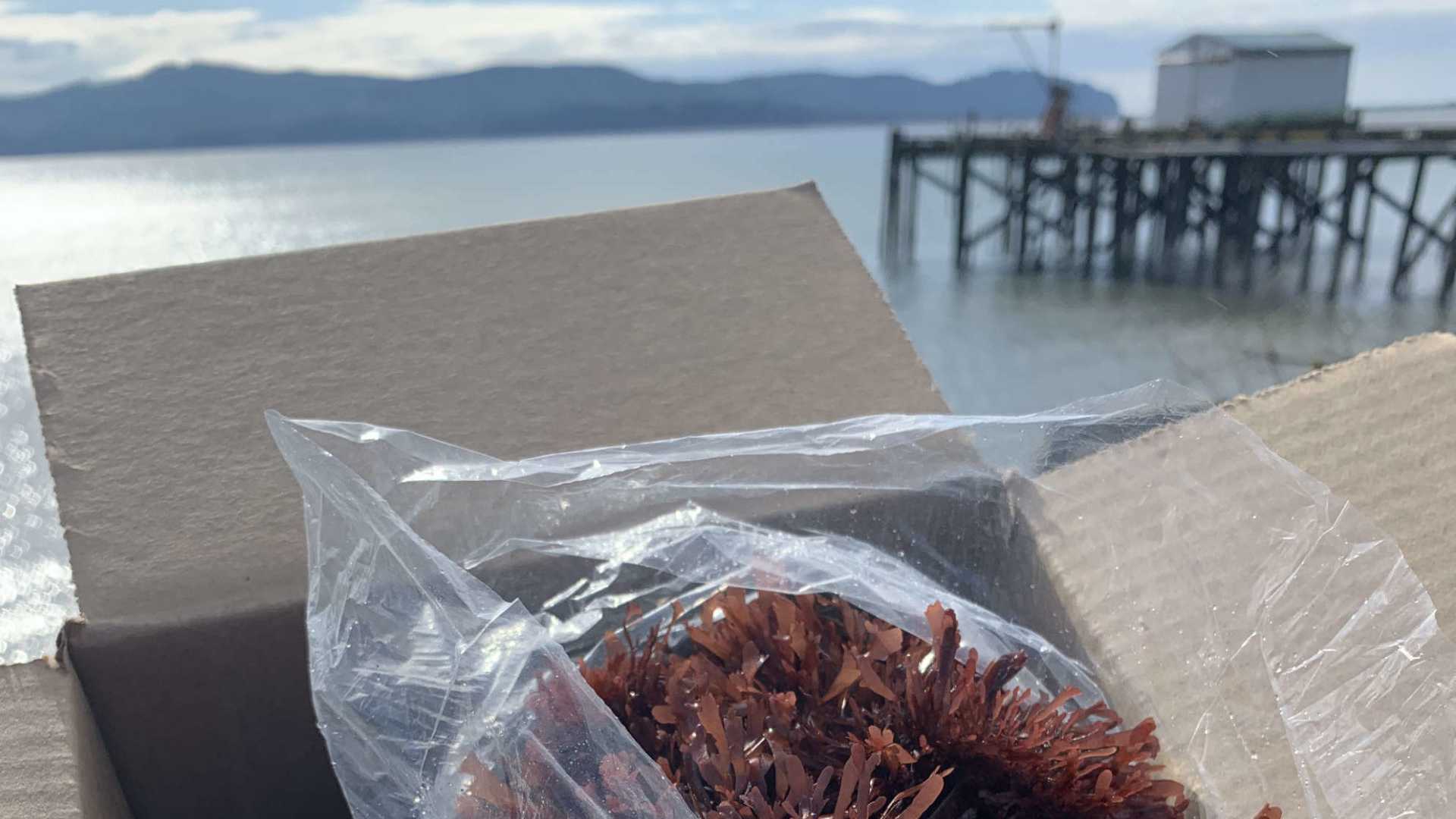 Fresh seaweed shipped to you.
Pacific Dulse Seaweed (fresh, live dulse)
1/2 lb – 10 lbs shipped express to your door, kitchen or restaurant.
Seaweed is harvested and ships out Monday mornings.
Shop fresh seaweed online locally:
North Coast Food Web
Pacific Dulse Seaweed (fresh, live dulse)
4-16oz ready for curbside pick-up or local delivery from North Coast Food Web in Astoria, Oregon.
Food Roots
Pacific Dulse Seaweed (fresh, live dulse)
4-16oz ready for pick up, delivery available to homes in Tillamook county near Oregon Coast Highway (101), between Nehalem and Pacific City, Oregon.
Additional F.A.Q.'s
Q. How can I use fresh dulse?
A. Dulse can be used just like fresh kale or spinach. Sauté with butter or oil and garlic until crispy and it can be added to almost anything to provide a salty umami flavor. It can be baked into flavorful crisps either eaten as chips or added as a topping to salads, pastas, rice dishes. It can also be enjoyed fresh, made into salads, blended into smoothies, or added to soups.
Q. How long does your dulse stay good for?
A. Refrigerated, our fresh dulse lasts about 7-10 days.

Q. Can't I just go pick this off the rocks myself?
A. Pacific dulse does grow along the Oregon Coast however, there's a very limited live seaweed harvest season in Oregon (March – June 15). We grow a variety of dulse that is higher protein and physically different from what you would find harvesting. Our dulse tends to be softer and thinner than what is found on the coast.
Q. Do you offer dried dulse?
A. We do! We have dried dulse available in many retail markets. If you are needing larger quantities of dried dulse, please contact us.

Q. Are there other uses for seaweed besides human consumption?
A. Many! Seaweed is used in cosmetics, fertilizer, pet food, biodegradable "plastic" products. Recent research has shown that by feeding cattle seaweed, their methane emissions can be reduced by up to 82%! More uses are being discovered daily.
Q. Do you allow visitors to your farm?
A. Our facility is closely viewable from the Port of Garibaldi, but access onto the property is not permitted unless someone is there and able to assist you. We have monthly farm tours offered through Shifting Tides. Please contact us if you need help setting this up.
Q. Why is shipping so expensive?
A. Shipping fresh seaweed and ensuring high quality upon arrival, requires overnight delivery. We know this is not cheap but want to ensure you are getting the product you desire. In cooler months, cheaper, 2-day delivery options can arise.