Our Aquaculture Upstart
Oregon Seaweed, now in its seventh year, has two farms in Oregon. Our first farm is in Bandon, Oregon, and it includes ten tanks. Our second farm just became operational in Garibaldi, Oregon, and it has twenty tanks. With thirty tanks under production, Oregon Seaweed is the largest land-based seaweed farm in the United States. Our state-of-the-art aquaculture farms are controlled environments that grow the highest quality dulse seaweed in the Pacific Northwest.

Both of our farms are based on access to fresh seawater and the sun's energy, the two key ingredients for growing quality seaweed. With these key ingredients, we can produce a delicious and highly nutritious protein source that is far less impactful to the environment than other plant based proteins. The more we can replace high-carbon food sources with low (negative) carbon seaweed, the better we can feed our growing population nutrient rich foods while also combating climate change. A high nutrient, delicious food that cleans our climate?!

Do you have questions about our seaweed, the aquaculture process, or would like to place a bulk order? Please submit your questions using our form, or contact us directly and we'd be happy to speak with you.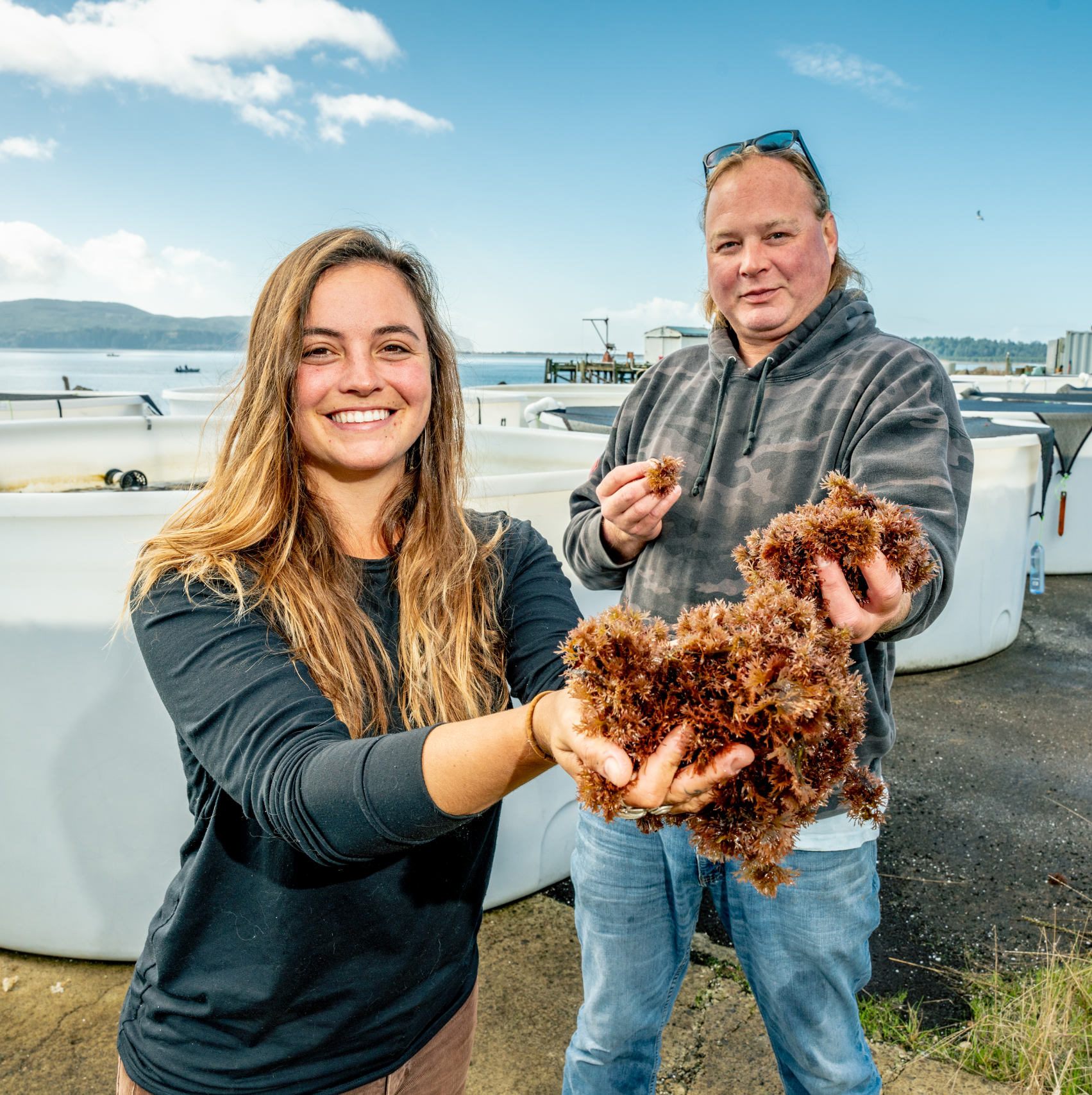 Meet the Oregon Seaweed Team
Our team resides on the beautiful and beloved coastal shores of Oregon. We know what it feels like to rely on the ocean for both physical and mental clarity. As Oregonians, we depend on the health of these waters for every aspect of our lives. Throughout the years, we have witnessed changes both positive and negative in our marine ecosystems. Growing and eating dulse is another way for us to connect with our coastal waters while contributing to its health in a positive way.
Nate Jones
A marine science enthusiast. With a bachelor of science in Oceanography from Humboldt State, Nate has done topside research on the geological, biological and chemical dynamics of beneficent communities. Nate is a resilient and determined diver, with over 1000 logged scientific and commercial dives in the cold low-vis waters of Oregon and Lake Tahoe. Nate is passionate about aquatic invasive species removal. He believes in the power of seaweed for nutritional benefits and the benefits it provides soil when used as a fertilizer.
Alanna Kieffer
An Oregon coast local and lover of all parts of the ocean. After working as an environmental educator for the Haystack Rock Awareness Program in Cannon Beach, OR, she went to study marine biology at Oregon State University. She followed her love of marine science education to Catalina Island to teach students about the rich ocean environment and our role in protecting it. Alanna became an avid diver and aquarist and fell in love with kelp forests, both their beauty and benefit. When not working to teach others about the oceans abundance she is often found surfing in Oregon's rain splashed waves or creating jewelry that highlights the oceans unique patterns.
William Black
He grew up in a small agricultural town where he learned a lot about various industries. After High School he joined the Marine Corps as a Logistics and Embarkation Clerk. There he conducted loading operations for C5-B Galaxy cargo aircraft, the largest in service during that time. He worked in the wine industry before attending culinary school. The first time he saw Garibaldi he knew it was where he wanted to settle. Since then he has worked at FishPeople providing the coastal community with fresh caught local seafood, as well as a commercial clam diver with Clam Up Fisheries. His passion with dulse is to pursue the nutritional impact it can provide humanitarian aid.
Chuck Toombs
In his tenure at Oregon State University, he discovered this unique strain growing at the Hatfield Marine Science Center. Forming a company that is now called Oregon Seaweed, they have created several new strains that have different functional properties growing at their two farms 200 miles apart. Chuck has deep and broad experience in both manufacturing and academia. He has an MBA from the University of Chicago, specializing in Marketing.
Jason Busch
Jason has a deep background in coastal affairs, and for the past decade has been the executive director of the Pacific Ocean Energy Trust, a 501c3 nonprofit with the mission to promote ocean-based climate solutions. As a recovering lawyer, he has enjoyed building the two seaweed farms, managing operations, and serving as general counsel. But his favorite part is being on the coast watching seaweed grow.
Looking to order Seaweed?
Visit our shop page to order a direct shipment of fresh Pacific Dulse Seaweed.